About John Iams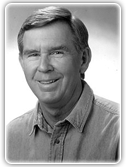 In the early 80's, after earning his Masters Degree in Physical Therapy from USC, John Iams opened a private practice in Poway, CA named the Physical Therapy Institute, Inc. This practice did well and expanded to include 4 different locations. All were successful and continued to grow. In 2005, John decided to sell his first private practice with plans to explore his field further and find better solutions to help people release their pain. Eventually he sold all of his private practices to invest himself completely in SuperSpine, Inc. SuperSpine is the culmination of those years of exploration and study that lead to his innovative pain release techniques that he practices today. Through his new experiences, John became an inventor and pioneer for pain relief products, holding about a half dozen patents. Several of his inventions, including his Pivotal Therapy System and Primal Reflex Release Technique, have been marketed worldwide.
John now spends his time lecturing, researching, writing and mentoring instructors for his Basic PRRT™ Seminars. This path follows closely to his decades of passion for finding ways to ease the pain and suffering of mankind and he has taken big strides already in bringing release from pain to thousands of people.
John's 2500 square foot Library, multimedia and seminar center has become legendary in Poway and Southern California. It may be the largest private library of its kind in the world, with many out-of-print volumes. This is his knowledge base in print and he uses most information even today. John continues to treat private patients in his center and sees a number of high profile athletes and professionals. Patients fly in from around the country to seek out his help and they usually find it's the most valuable work they've ever had done. Virtually no one has ever left the San Diego alternative therapy center saying PRRT™ was of no help.
The number one message John wishes to convey is that you don't have to live with pain. You should see results from PRRT within the first visit and you should be free from pain in under 6 visits. Learn to live again; be free from pain! The PRRT™ way!